About Quality Assurance
and Quality Control
Aiming
to
Delivery
Higher-quality
and
More
Reliable
Products
Quality assurance is crucial to ensure that the quality, safety, and efficacy of a product adhere to the requirements.
The details of quality assurance include cooperation and division of responsibilities with sales companies for each product to provide highly reliable products through communication with customers, markets, regulatory authorities, business partners, and internal departments. TOA Pharmaceuticals can handle a variety of business formats, including integrated manufacturing (manufactured and sold by our company), outsourced manufacturing (manufacturing at our company and outsourced to other companies), contract manufacturing (products manufactured by other companies sold by our company), outsourced testing services (our company testing products manufactured by other companies), and outsourced development.
In accordance with the company philosophy and code of compliance conduct, TOA Pharmaceuticals has positioned quality assurance as an activity to prevent products with issues or concerns regarding quality, efficacy, and safety from being marketed.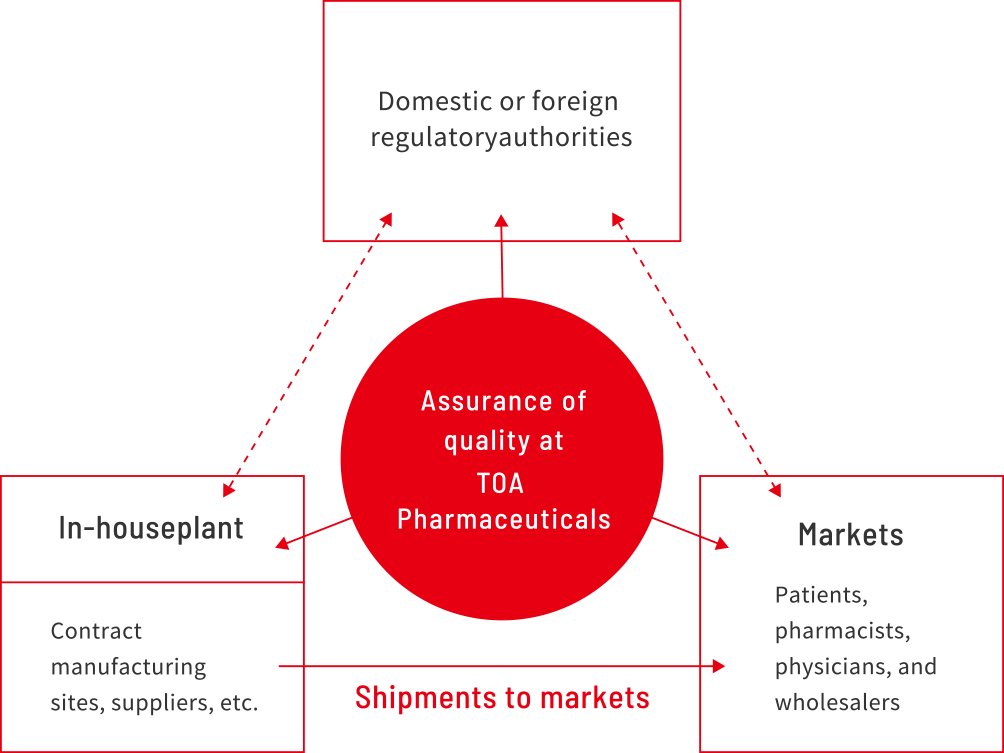 Regulatory Affairs

Applications for and maintenance of marketing approval based on the Pharmaceutical and Medical Devices Law, applications for and maintenance of business licenses, and applications for and maintenance of drug prices, among others
Quality Control

Determination of shipment to markets, control and supervision of domestic and overseas manufacturing sites, contract of regulations, response to quality in​formation,​ and change control based on the Good Quality Practice (GQP) ordinances
Safety Management

Collection, evaluation, and implementation of measures for management of safety data based on the Good Vigilance Practice (GVP) ordinances
Development Inspection

Includes audits of clinical studies and other aspects based on the Good Clinical Practice (GCP) ordinances
Quality control
We conduct various tests, including physicochemical tests and microbiological tests, from the receipt of raw materials to the shipment of products, and perform advanced quality control.
We perform stability tests and assess manufacture support systems, such as water and the environment, to assure quality before the expiration date.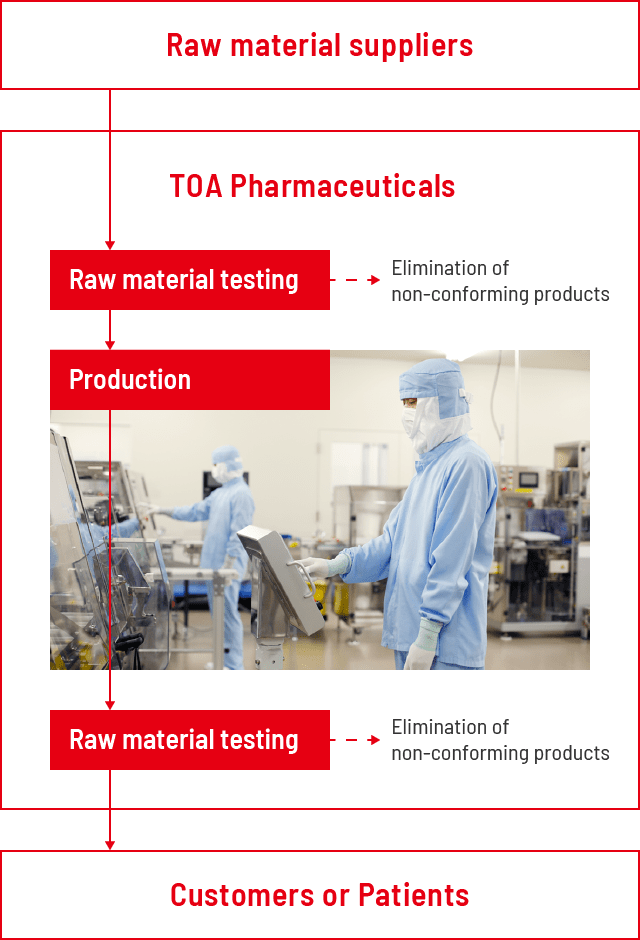 Raw Material Testing
Testing the raw materials received for compliance with the acceptance specifications
Product Testing
Testing for compliance with the shipment specifications