About
our Research
and Development
Aiming
for
advanced
drug
development
The research and development department conducts daily research to deliver high-quality pharmaceutical products to patients.
Through the development of generic versions of prescription drugs, including ophthalmic solutions and inhaled formulations, improvement of existing formulations in a patient-friendly manner, establishment of new pharmaceutical technologies, development and research of new pharmaceutical products, presentation of research results and acquisition of rights, and collaboration with co-development companies, we aim to improve pharmaceutical product development.
Characteristics of research and development at TOA Pharmaceuticals
Pharmaceutical products representative of TOA Pharmaceuticals
We are developing the following formulations to create "formulations with unique characteristics representative of TOA Pharmaceuticals."
Niche products, such as ophthalmic formulations (ophthalmic solutions and ophthalmic ointments) and inhaled formulations (DPI formulations)
Formulations with improved taste, odor, size, and shape for patients
High-level, difficult-​to-develop​ pharmaceutical products that cannot be managed by other companies
Research and development philosophy
The following philosophies that support research and development are the driving forces to overcome difficulties and create new pharmaceutical products:
Accumulation of technology and amassing experience and the drive for continuous improvement
Flexible response capabilities and straightforward efforts
Appropriate standards and quality-first approach
Refinement in the field of expertise
Timely and speedy development
Research and development flow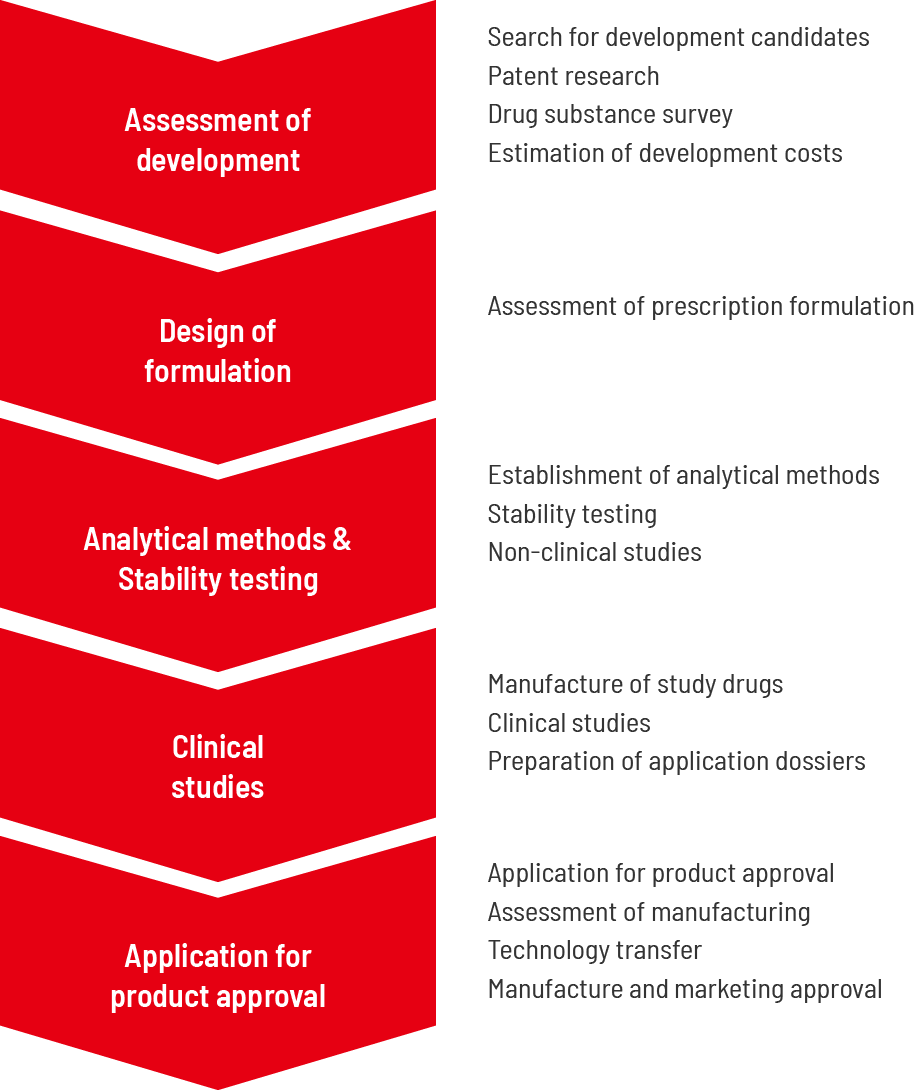 Development consideration
Based on our development strategy, we select candidates for development, confirm patents and other prior technologies that will interfere with development, and collect information on the future prospects and competing products. Further, we investigate high-quality drug substances suitable for pharmaceutical products obtained from drug substance manufacturers in Japan and overseas, evaluate the development costs, estimate the manufacturing costs, and evaluate the profitability of development candidate products.
Manufacturing Design, Analysis Method Establishment, and Safety Testing
In the formulation study, it is sometimes necessary to avoid the patent infringement and design the formulation. We evaluate the validity of the formulation, establish an analytical method appropriate to the formulation, confirm the stability of the formulation under various conditions, and decide on the formulation of the formulation.
The pharmaceutical equivalence is evaluated to develop generics of prescription drugs to obtain equivalent characteristics to the brand-name drugs.
A patent application may be filed if a new technology is discovered during the formulation review process.
We consider various conditions and prescriptions to respond flexibly to customer requirements when working on contract pharmaceutical product development.
Clinical Studies
If a clinical study is required, we will manufacture the investigational product. In the case of generics of prescription drugs, bioequivalence with the brand-name drugs is confirmed via clinical studies. Investigational products will be manufactured in accordance with standards stipulating appropriate manufacturing management and quality control methods that must be followed as well as in accordance with conditions related to necessary buildings and facilities. Non-clinical studies may precede clinical studies or may be conducted if evaluation in clinical studies is challenging.
Approval Application
Comprehensively summarize the quality of the drug substance and drug product, clinical, non-clinical, etc., prepare a CTD (Common Technical Document), and apply for approval. In the assessment of manufacturing, we will establish manufacturing methods to ensure the safe and stable production of developed products in commercial production facilities. The manufacturing and testing methods established via industrialization studies will be technically transferred to the manufacturing site. Approval for manufacturing and marketing will be obtained through reviews and investigations.