About
the Manufacturing
Structure
Toyama's
Unique
Pharmaceutical
Development
Environment
is
a
Basis
for
Peace
of
Mind
We have production facilities for a variety of dosage forms at the Toyama Plant in eastern Toyama and the Nishihongo Plant in western Toyama.
In addition to handling a wide range of varieties, we have production capacities that can cater to a wide range of production requirements—from small to large quantities.
We provide a manufacturing system that utilizes Toyama's unique local advantage, one rich in pharmaceutical-related​ industries developed in the context of the history of pharmaceutical production in Toyama.
Characteristics of the TOA Pharmaceuticals Manufacturing System
Contract Manufacturing
We provide support for outsourced production of large pharmaceutical companies. Our technical departments are working on industrialization studies, scale-up studies, analytical methods, and accelerated stability testing of a wide range of pharmaceutical processes, including solid oral formulations and oral solutions. We have been recognized for our high technological capabilities, such as using our extensive experience to evaluate and validate various technologies.
Testing
We conduct various tests, including physicochemical tests and microbiological tests, from the receipt of raw materials to the shipment of products and perform advanced quality control.
Moreover, we perform stability tests and assess manufacture support systems, such as water and the environment, for assuring quality before the expiration date.
Additionally, various tests are conducted at the Toyama Plant as an external testing facility for the Nishihongo Plant and other companies.
GMP structure
Good Manufacturing Practice (GMP) ministerial ordinances stipulate standards for manufacturing management and quality control of pharmaceutical products and quasi-drugs. In addition, GMP requires the implementation of appropriate manufacturing control and quality control in accordance with PIC/S GMP to ensure internationally acceptable quality.
We have established a pharmaceutical quality system and emphasize on education and training and aim to ensure high quality and reliability from managers to workers. Further, we aim for customer satisfaction by undergoing pre-manufacturing and periodic GMP audits from marketing authorization holders. We are making substantial improvements to further enhance our quality.
Following the 5-item ESQDC in manufacturing products
TOA Pharmaceuticals is committed to delivering a wide range of high-quality pharmaceutical products to patients without delay using our excellent manufacturing technologies and skills and following appropriate GMP. The mission of TOA Pharmaceuticals is to implement the five initiatives in ESQDC.
ESQDC is a coined term that is an acronym for environment, safety, quality, delivery, and cost.
Environment

We are committed to conserving the environment by reducing energy use and waste. Together, we are promoting manufacturing activities with awareness about environmental conservation and aim for symbiosis with local communities.

Safety

We strive to maintain and improve the hygienic environment and to create a safe, hygienic, easy-to-work, and lively workplace.

Quality

To maintain the efficacy, safety, and high quality of our pharmaceutical products, we conduct our manufacturing activities under consistent management, from receiving raw materials to shipping products.
TOA Pharmaceuticals has a quality policy based on the company philosophy of "Armored with conscience and product quality as our main priority, we will gradually cultivate people's trust."

Delivery

To meet the customer demands, we have developed a manufacturing plan based on the introduction of high-efficiency manufacturing equipment as well as a long-term plan to ensure the timely supply of products.

Costs

We strive to reduce costs while ensuring the manufacture of high-quality products.
TOA Pharmaceuticals aims to improve customer satisfaction by optimizing production volume, streamlining manufacturing processes, and evaluating packaging specifications.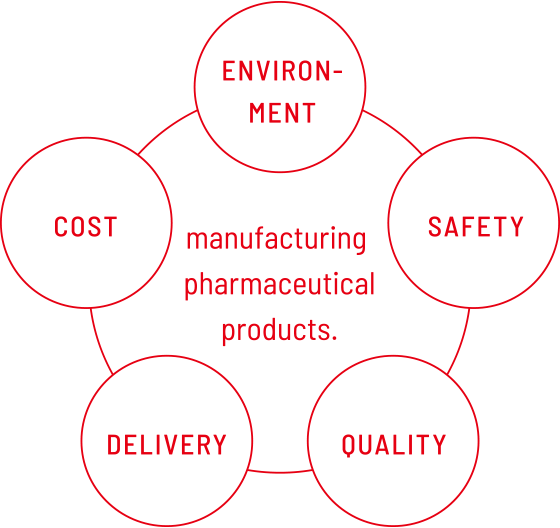 Introduction of Our Plant